funkbox drum machine
vintage beatbox app for iphone and ipad
Looking for classic drum machine sounds in an easy to use app? We've got the funk you need, right here in this box.
Chock full of vintage retro vibe and old school mojo, FunkBox is perfect to sketch out beats and jam along with.
FunkBox and its funky retro beats were used by Gorillaz when recording their iPad album "The Fall".
FunkBox has also been used live in concert by artists such as Joan Osborne, and Glenn Tilbrook of Squeeze.
KING OF THE BEATS
Hundreds of classic sounds sampled from our own personal collection of vintage drum machines.
Thirty-six funky preset drum patterns to get you moving and grooving.
Tap along on top of the beat using the drum pads, and overdub your own parts.
Use the built-in mixer to adjust volume, pan and accent levels for each sound.
Easily save, load, and share all the dope beats you create.
GET IN THE GROOVE
Precise setting of tempo with the tempo slider, or just tap what you're feeling.
Ease into a perfect groove with adjustable swing.
Sync up to external drum machine or groovebox hardware with MIDI sync.
Featured by Apple in "Staff Favorites", "Retro Apps" and "Band in Your Hand" iPhone and iPad App Store promos!
Also featured in Computer Music magazine's "Amazing Music Apps" special issue on music apps...
...and included in Electronic Musician magazine's "Attack of the Killer Apps" list of the best iPad music tools!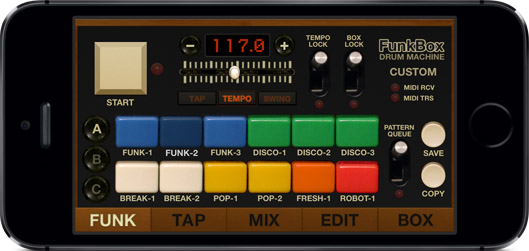 DROPPING SCIENCE
Want to go deeper? Use the pattern editor to create your own patterns from scratch, with adjustable accents, swing and speed.
Edit the boxes to mix and match samples, or mess up their timing a bit for some random vintage funk.
Use the drum part editor and create your own sounds: edit sample pitch, start/end points, or swap the samples with your own.
GET CONNECTED
Email the audio and MIDI patterns you create to your friends, or use audio copy-paste to get them in another app.
Use CoreMIDI to sync FunkBox up to real hardware instruments, other music apps, or Ableton Live.
Use Inter-App Audio and Audiobus to process FunkBox with effects or record into other apps.