little midi machine
analog style midi step sequencer for iphone and ipad
Play mind bending musical sequences on your MIDI synthesizer using your iPad or iPhone!
Little MIDI Machine was designed to look and feel like the vintage analog style step sequencers used by classic synth artists such as Tangerine Dream, Kraftwerk and Klaus Schulze. Loop melodies, skip steps, move in reverse or randomly, and more!
A dreamy vintage step sequencer...
Two independent channels
Four sixteen-step sequences
Set note, velocity, length per step
Toggle mute and skip per step
Adjust tempo and clock divider
Reverse and random modes
Works on both iPhone and iPad
Free!
Extensive CoreMIDI support
Send or receive MIDI clock
Set MIDI channel and base MIDI note
Supports CoreMIDI hardware interfaces
Supports virtual and Network MIDI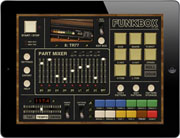 FUNKBOX
DRUM MACHINE
GET LITTLE MIDI FROM
THE APP STORE!
LITTLE MIDI MACHINE
USER MANUAL
SYNTHETIC BITS
FACEBOOK