FUNKBOX Instruction Manual

CHAPTER 8: AUDIO-MIDI SETTINGS PAGE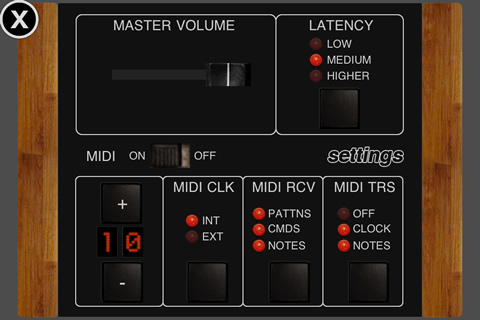 Figure 8: Settings screen
SETTINGS SCREEN DETAILS:
MASTER VOLUME SLIDER
This slider allows you to adjust the overall volume and level of the FunkBox mix.
AUDIO LATENCY SLIDER
This button allows you to set the amount of audio latency used by FunkBox. If you are using an older iOS device and experiencing clicks or dropouts in audio playback, you will want to set the latency to a higher value. Newer iOS devicer should be able to use the lowest values, which will allow for a faster reaction time between screen taps and drum hits.
MIDI ON/OFF SWITCH
This switch enables and disables the new CoreMIDI features of FunkBox (iOS 4.1+ only). These features are a preliminary attempt at implementing MIDI, for advanced users with pro music software hardware who wish to integrate FunkBox into their studio setup. Please have some patience with these new features while we try to make them stable and easy to use.
FunkBox works with CoreMIDI using either the Camera Connection Kit and a USB MIDI interface (recommended) or over Network MIDI. Please be advised that Network MIDI by nature can have issues related to latency and/or occasional hiccups, and may not be reliable enough for situations such as live sets/etc. We included it anyway so you can decide for yourself if it works "good enough", but speaking personally, we weren't that happy with its performance.
MIDI CHANNEL SELECTION
This allows you to set the MIDI channel that FunkBox transmits and receives on.
MIDI CLOCK TOGGLE
This toggles between FunkBox using its internal clock (default), or syncing to an external MIDI clock. If you have it set to sync to an external clock, FunkBox will require MIDI start/stop and clock messages to operate.
MIDI RECEIVE OPTIONS
These various options allow you to toggle what types of received MIDI data (MIDI in) that FunkBox will process.
PATTNS = Patterns = remote control of which patterns get triggered
CMDS = Commands = remote control of start/stop, tap tempo, mute/unmute parts
NOTES = Notes = remote control of individual drum hits
MIDI TRANSMIT OPTIONS
This allows you to set what data FunkBox will transmit (MIDI out).
CLOCK = Transmit MIDI clock and Start/Stop commands to sync external devices
NOTES = Transmit a MIDI note when a drum part is triggered by the FunkBox sequencer
MIDI MAP
NOTES
C1 - KICK
D1 - SNARE
F#1 - CLOSED HAT
G#1 - OPEN HAT
C#1 - RIM SHOT / CLAVE
F1 - LOW TOM / CLAP
G1 - HIGH TOM / COWBELL
A#1 - CRASH
PATTERNS
C2 - Pattern 1
C#2 - Pattern 2
D2 - Pattern 3
D#2 - Pattern 4
E2 - Pattern 5
F2 - Pattern 6
F#2 - Pattern 7
G2 - Pattern 8
G#2 - Pattern 9
A2 - Pattern 10
A#2 - Pattern 11
B2 - Pattern 12
PATTERN BANKS
C3 - BANK A
C#3 - BANK B
D3 - BANK C
MUTE ON/OFF
D#3 - KICK PART
E3 - SNARE PART
F3 - CLOSED HAT PART
F#3 - OPEN HAT PART
G3 - RIM SHOT / CLAVE PART
G#3 - LOW TOM / CLAP PART
A3 - HIGH TOM / COWBELL PART
A#3 - CRASH / RIDE PART
COMMANDS
B3 - TAP TEMPO
C3 - START / STOP